Anthony Scaramucci's SkyBridge Capital and EJF Capital are first major institutional investors to dive into the tax incentive program with a planned $3B fund.
UPDATE Dec. 13, 4:20 p.m.: Anthony Scaramucci was still joking around with his partners when the microphones went live during a Tuesday afternoon conference call meant to draw in investors for his hedge fund SkyBridge Capital's plan to raise a $3 billion Opportunity Zone fund.
Indistinct male voices cajoled one another: "Come on!" said one man. "If you can't take it nobody can take it," said another, as classical hold music played on. Then Scaramucci got down to business.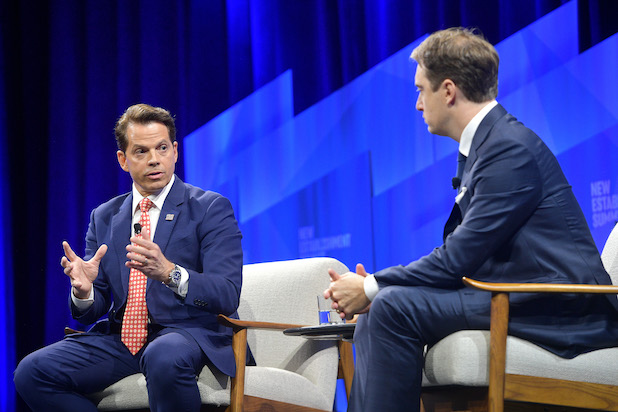 SkyBridge Captial and EJF Capital started raising funds on Dec. 1 through a private entity known as SkyBridge-EJF Opportunity Zone Real Estate Investment Trust. The fund, SOZ REIT, has been soliciting capital from "a small batch" of clients and friends, Scaramucci said. Now, it's "open to everybody" who wants in, he added.
SOZ REIT is the highest-profile entity to tap into the Opportunity Zone program using the structure of a REIT. The Opportunity Zones program, created as part of last year's tax overhaul plan, offers tax deferrals and benefits to investors who park their money in assets located within designated low-income neighborhoods. There are more than 8,700 designated zones nationwide. Despite the interest, the program has already stirred among developers and investors, final regulations have yet to be released.
On Tuesday's conference call — which came a day before President Trump was scheduled to discuss Opportunity Zones at the White House — Scaramucci and the REIT's sub-adviser, EJF Capital's Manny Friedman, explained their decision to structure the fund as a REIT.
"I suspect our competitors … once they understand our structure … [will] start copying it," Scaramucci said. He added they opted for the REIT structure in order to make investments across states and sectors with a variety of developers.
And it's a feat that New York-based tax attorney Roger Lorence said is not easy.
That's mostly because "REIT rules are not forgiving," he said. Under the U.S. Securities and Exchange Commission's rules, SOZ REIT must be a "passive vehicle," with at least 100 accredited investors but no more than 500. Any more than that and it would have to be a public company.
"I understand that combining the two sets of rules is a grand slam," said Lorence. The tax incentives baked into the Opportunity Zones program, married with investor's love for private REITs, should be a winning pair. But, he noted, because many questions are still outstanding about Opportunity Zone rules, combining the two from a legal standpoint is no "cake walk."
"It will be interesting, no, it will be fascinating to see whether it can be pulled off," he said.
Steve Glickman, who's credited with creating the Opportunity Zones program and now runs a consultancy firm for investors, disagreed.
Pairing REITs and Opportunity Zones "should be totally doable," he said. "There are a lot of synergies."
However, because the entity is structured as a REIT, no more than five investors can own 50 percent of the company. Glickman said not many Opportunity Zone funds "have access to that class of investors."
The hedge fund's attempt to raise a $3 billion Opportunity Zone REIT comes as other funds have set a $500 million Opportunity Zones raise. Those funds have been among the largest initiated to date, and capital is being raised by real estate players "used to getting friends and family money," Glickman said. "Reaching out to several thousand investors on a call like this is much different."
It's also different when Scaramucci is at the helm. The call on Tuesday afternoon was sprinkled with a taste of the exchanges that he became famous for during his brief stint as the White House Communications Director.
"Who the hell is EJF and their expertise as it relates to real estate?" Scaramucci demanded of Friedman, in an apparent bid to reassure investors of the sub-advisers credentials.
A few beats later he referred to Friedman as "one of the exemplary investors of his generation" and then joked: "how about thank you, Anthony, for saying all those nice things?" (Earlier in the call, Scaramucci had been gearing up to superlatively introduce Friedman before catching himself — "I'm going to rephrase this because it sounds a little bit Trumpian.")
Friedman did not audibly acknowledge Scaramucci's comments. Instead, the veteran investor focused on the business itself: "We have first-mover advantage," he said.
To Lorence, the tax attorney, the REIT structure is an outlier compared to the limited partnerships that are currently favored by other Opportunity Zone funds.
For Glickman, SkyBridge and EJF are tapping into techniques and approaches reserved for institutional investors, which have yet to jump into the Opportunity Zone action.
Lavy Rosenthal, vice president of the Carlton Group, said he was working on two Opportunity Zone transactions and he'd "never heard of" fundraising by "pitching blind" via a conference call.
"By all means, if that works for someone, I can't knock the hustle," he said. "But [for us] it's all relationship-based, [on] the rapport, your past transactions."
Another source also involved in raising OZ funds said SkyBridge and EJF's call sounded like "an odd mix of fundraising and PR."
Their methods may be up for debate but, as Glickman said, "right now they're the only game in town."
EDITOR'S NOTE: The Carlton Group is working on two Opportunity Zone transactions, not raised two funds, as previously stated.